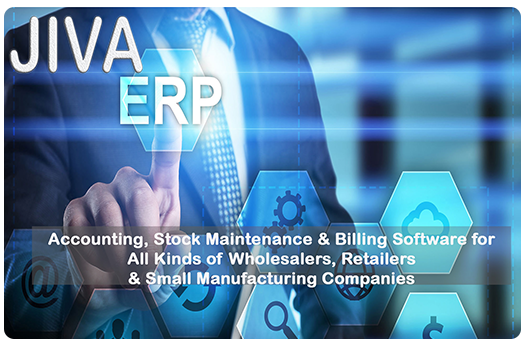 JIVA ERP 9.0
DEMO
INSTALLATION VIDEO
JIVA ERP 9.0 - DOWNLOADS
Platforms: Windows 10, Windows 8.1, Windows 8, Windows 7, Windows Vista, Windows XP
System Type: 32-bit or 64-bit of Desktop Operating System
Size: 1MB
ADVANCE FEATURES
Bill Email Facility
Excel Exports
SMS Facility
Intrest Calculator (Bill Wise)
Customizable Entries - Add or remove columns according to need
Tally Transfer
Online and Offline Backup Facility
Partywise Rate For Items
Bill Printing Settings-Customizable Bill Settings
SALIENT FEATURES
Very Easy To Install and Use
Fast Billing
Very Easy- Learning you tube videos link given on each screen makes very easy to use.
Security-Can create unlimited users and their passwords.
GST Billing-Billing format according to GST.
Stock Maintenance-Automatic stock maintenance according to batch no, serial no, model no, IMEI no etc.
Accounting-Automatic Accounting so no need of accounting knowledge or any course.
Ledger-Automatic account statements of all customers, suppliers, banks, expenses and many more.
Tally Export - Easy export of all data in tally.
GST Reports- R1,R2,B3 and many.
Backup- Online and offline backup facility
Expiry report and warranty report
Loose Sale
Excel Export-Facility to export all reports to excel.
Purchase and Sale Report-Item wise, Party wise, and Customer wise sales reports.
BEST USE FOR
Krushi Seva Kendra
Kirana Shop
Electrical and Electronic Store
Hardware and Paint Shop
Small Manufacturing Company
Furniture Shop
Garment and Hosiery
Mobile Store
Inverter and Battery Shop
Patanjali, Ayurveda and Cosmetic Store FMCG Distributors
UPI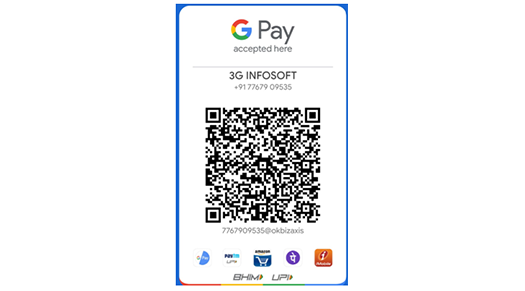 SERVICE CHARGES:
Free Online Installation
Online Training & Service Charges – Rs. 1999/- To One Person Only for 1 Year
Tally Transfer Charges As per Data and queries
Training at Customer Venue
Rs. 1999/- per visit
Customization Charges as per requirement
(Bill print setting, column setting)
Online backup & email service
Rs. 1999/- per year
SMS Charges depends on quantity